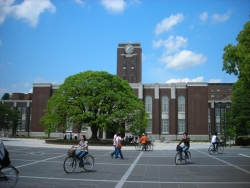 To enrich its education and research environment, and that of its partner institutions, Kyoto University is engaged in the international exchange of researchers and students throughout the university.
Student Mobility
International Student Intake: As of May 1, 2012, Kyoto University welcomed over 1,700 international students, a 50% increase in the last five years. Student exchange agreements concluded with 68 international partner institutions (as of February 1st, 2013). Kyoto University International Education Program (KUINEP) provides opportunities for undergraduate students to study at Kyoto University for six months or one year. Thirty-four courses in English were offered in 2011. Eighty students enrolled. Courses focus on: Japanese and Asian culture, society, economics, politics, environment, statistics, and engineering. Credits earned are transferrable in the students' home countries.
Dispatch of Undergraduate and Graduate Students: Kyoto University offers international exchange courses in Thailand, Vietnam, and the United States for first and second year students as well as cultural exchange programmes in Australia and China for undergraduate and graduate students. 193 students were dispatched in 2011.Diverse programmes offered through student exchange agreements with international partners, including fieldwork programmes for graduate students.

HeKKSaGOn / Cooperation with German Institutions: Cooperation and exchange agreements have been completed to facilitate Student exchange. Additionally, five doctoral students attended the HeKKSaGOn Summer School 2012 and one doctoral student attended Heidelberg University for nine months from April 2013 through the Baden-Württemberg-STIPENDIUM "plus" programme. Kyoto University will host one doctoral student from Heidelberg University for one year from April 2013.
Researcher Mobility
Kyoto University makes continuous efforts to enhance its research cooperation with foreign universities. Currently 95 academic exchange agreements concluded with international partner institutions (as of February 1st, 2013).
8,128 researchers dispatched to foreign countries during 2011.
2,950 international researchers hosted during 2011.
HeKKSaGOn / Cooperation with German Institutions: Academic exchange agreements have been completed. Kyoto University's Institute for Integrated Cell-Material Sciences (iCeMS) are in the process of enhancing their cooperation with researchers at Heidelberg University based on the HeKKSaGOn Life and Natural Science Fusion/ Crossing the Border session. Furthermore, research exchange with Göttingen University enhanced through the New Challenges and Opportunities in Robotics in the 21st Century session, e.g. Master's students from Göttingen University studied at Kyoto University for two months, and students from Kyoto University studied at Göttingen University for four months.